Virtual Trail
Walk the trail from your computer
The Foundation
The Nez Perce Trail Foundation exists to promote the development of this trail on the ground and to further the interpretation of events of this most significant trail.
An important objective of the Foundation is to help educate its members and the public about the significance of this trail in relation to the conflicts between the encroachment of the white settlers and the Nez Perce in their traditional homelands in Idaho and eastern Oregon.
Mission Statement of the Nez Perce Trail Foundation
The Nez Perce Trail Foundation exists to promote public awareness and appreciation of the historic route of the tragic 1877 flight of the Nez Perce from the U.S. Army. Much of this route is recognized by our nation as the Nez Perce National Historic Trail, extending from Wallowa Lake in Oregon to the Bear Paw Battlefield in northern Montana. The Foundation shall work, either individually or jointly with governmental agencies and others to preserve and protect cultural resources and values while promoting respectful use by all. Our mission also advocates extension of the trail to include these additional routes: the Redheart band's forced march to Ft. Vancouver, Washington and their incarceration; the journey to exile at Ft. Leavenworth, Kansas, and in the Oklahoma Territory; the escape route into Canada used by some of the party; and the return from exile to the Lapwai, Colville and Umatilla Indian Reservations in the northwest.
Vision Statement of the Nez Perce Trail Foundation
To honor the strength and resolve of the Nez Perce people in the 1877 Nez Perce War and the events that followed.
The Meaning of Our Logo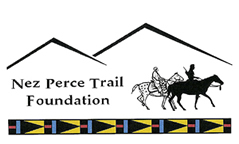 The Foundation logo incorporates geometric shapes to represent important aspects of the Nez Perce Outbreak and the War of 1877. The riders represent the hundreds of Nez Perce men, women, and children, along with their livestock, who traveled over 1,170 miles across present-day Oregon, Idaho, Montana, and Wyoming in search of a new place to call home after being forcefully removed from their traditional homelands.
The two mountains represent the Bitterroot Range and the larger Rocky Mountains that the Nez Perce traversed during their four-month journey of hardship, victories, and defeat by the U.S. Army.
The seven vertical black/red bars along the bottom represent the seven significant battles and skirmishes of the Nez Perce War: the White Bird Canyon Battle, the Clearwater Battle, the Big Hole Battle, the Camas Meadows Battle, the Canyon Creek Battle, the Cow Island Crossing Skirmish and the Bear Paw Battle. The seven bars also represent the seven generations and seven drums — very important in Nez Perce culture.
The six triangles represent eagle feathers to honor the six bands pursued by the U.S. Army, until Chief Joseph's final stand near the Bear Paw Mountains on October 5, 1877. These six bands were the Joseph (or Wallowa) Band, the Lean Elk Band, the Looking Glass Band, the Palouse Band, the Toohoolhoolzote Band, and the White Bird Band.