Virtual Trail
Walk the trail from your computer
Home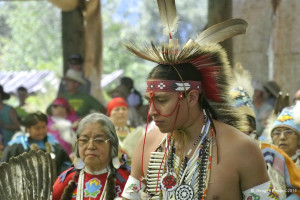 Nez Perce Dancers at the Tamkaliks Celebration
NEZ PERCE TRAIL FOUNDATION
Official Partner of the NPNHT
The support of the Nez Perce National Historic Trail, designated by Congress on October 6, 1986, is a major activity of the Nez Perce Trail Foundation. The Trail route is 1,170 miles long, beginning at Wallowa Lake, Oregon, and ending at the Bear Paw Battleground in Montana. The Nez Perce Trail Foundation is dedicated to the preservation, protection, and commemoration of all aspects of the heritage of the Nez Perce War of 1877 and its aftermath. A significant Foundation goal is to have the Nez Perce route available to auto travel, hiking, and equestrian use for experiencing the history, recreational and ceremonial observances.
---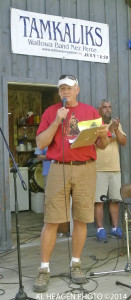 Heglie / Wallowa Homeland Scholarships
   Duane Heglie, Board Member and Lifetime Member of the Nez Perce Trail Foundation,  was pleased to award TWO scholarships this year to deserving candidates. The Heglie family, as well as many of their friends, donate money each year for the scholarship funds.
The two $500. scholarships were awarded this year at the Tamkaliks Celebration in Wallowa, Oregon in July. The Heglie/Wallowa Homeland Scholarship Award winners were announced during a break in the championship dancing on Sunday.
The 2014 Winners are:
Dominique Belafsky, Beavercreek, Oregon: member of the Umatilla tribe, age 20, Psychology major, specializing in Youth and Family Services, attended Clackamas Community College, transferring to Portland State University.
Sierra Higheagle, Lapwai, Idaho: member of the Nez Perce tribe, age 20, General studies, attended Columbia Basin Community College, accepted to the University of Montana, future member of the womens Basketball team.
Congratulations to both Scholarship Award Winners!
Scholarship candidates for 2015 are encouraged to apply for these scholarships through the Nez Perce Trail Foundation. Applicants may submit their resume, educational experience, and goals to Duane Heglie. Please find more information on the Nez Perce Trail Foundation website at NezPerceTrail.net.
---

NEW
VIEW THE NPTF WEBSITE ON YOUR CELL PHONE
Our new web design is mobile friendly. Now you can access our site on your phone as you travel the trail.
As always, go to NezPerceTrail.net and we will be instantly formatted for your phone.
---
Nu'nim Himyu'uma ka Lawtiwa'ama
(Our relatives and Friends)
The Official Language Program of the Nee-Me-Poo
Click here to find out more about the language
---
DID YOU KNOW  . . . ?
Click Here for this Month's Feature
---
*** NPTF Business Plans ***
The NPTF is developing new business development plans for 2015
Would YOU like to be a part of preserving and experiencing history? YOU can make a difference.

The NPTF and TRAIL Preservation efforts are growing, and we need YOU!

Current Openings:
Merchandising Director (Trading Post)
Project Directors (For on-site work, TBD)
Please inquire at: Khnezpercetrail@gmail.com
These are voluntary positions, requiring accounting, inventory responsibilities, and travel.
Consider serving on the Executive Committee or Board of Directors

as Term Positions become Available
---
The National Park Service Turns 100!
On August 25, 2016, the National Park Service will mark its Centennial celebration, and will kick off a second century of stewardship of America's National Parks.
For more information, please visit

___________________________________________
 Ask for FREE Auto Tour Brochures
as a companion to the VIRTUAL TOUR

Available at the many official Nez Perce National Historic Trail Sites
(Click here to go to Virtual Tour)
(Click here to see feature as printed in Pathways Autumn 2012)
**** Visit our website with the use of your mobile device ****
InstaGram Coming Soon!
---
Last updated: August 1, 2014 at 18:57 pm