Virtual Trail
Walk the trail from your computer
Home
 
Guardian of the Imnaha Valley, northeast Oregon
NEZ PERCE TRAIL FOUNDATION
Official Partner of the NPNHT
The support of the Nez Perce National Historic Trail, designated by Congress on October 6, 1986, is a major activity of the Nez Perce Trail Foundation. The Trail route is 1,170 miles long, beginning at Wallowa Lake, Oregon, and ending at the Bear Paw Battleground in Montana. The Nez Perce Trail Foundation is dedicated to the preservation, protection, and commemoration of all aspects of the heritage of the Nez Perce War of 1877 and its aftermath. A significant Foundation goal is to have the Nez Perce route available to auto travel, hiking, and equestrian use for experiencing the history, recreational and ceremonial observances.
Follow us on FACEBOOK
Follow our journeys and photos on
InstaGram 

@NezPerceTrailFoundation
---
The Redheart Band at Ft. Vancouver
For years, the story of Chief Redheart and his band has been untold. Records and events of their unjust incarceration in1877-78 remained vague and forgotten, remembered only by the descendants. Until now.

Jesse Redheart II
The NPTF interviews Jason Redheart.
His story coming soon.

The Redheart Band Memorial will be held April 25, 2015 at 10 am, Ft. Vancouver, WA.

---
2015 NPTF Board of Directors Meeting
will be held in Wallowa, Oregon in conjunction with the Tamkaliks Celebration and Friendship Feast
July 17-19, 2015 (day TBD)
Please make your travel plans now. Your attendance at this meeting is very important.
---
Nez Perce Trail Foundation
Annual Scholarship
Applications are now being excepted for two $1,ooo Scholarships
generously funded by the Duane Heglie Family and Friends
Duane has been leading the NPTF Summer Tour Trips for the last 13 years,
and is also very involved with the education and future of the Nez Perce youth.
For more information and details, please contact Duane Heglie at:
1115 Arbor Place, El Dorado Hills, California 95762   •   916-933-1368
or email: heglie@comcast.net
---
New 2015 NPNHT Desk Planners have arrived!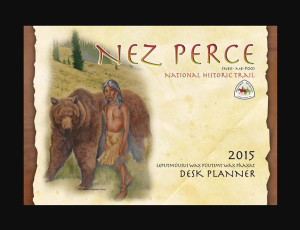 These beautiful calendars are now available to all NPTF Members
If you haven't received yours, please contact Roger Peterson-NFS for your copy today.
---
NPTF  FUNDRAISING

We Need You NOW !
The Nez Perce Trail Foundation is moving up to the next level! We continue our commitment to preserve, protect and commemorate the Nez Perce National Historic Trail. With a new efficient business plan in place for 2015, our NPTF volunteers are working very hard to carry out the responsibilities and operations of the Foundation. We continue our commitment to serve our Forest Service, National Park Service, and Bureau of Land Management partners. We are greatly indebted to those who have supported our efforts in the past, but the legacy must continue into the future.
Remember, the most important thing you can do is GIVE and tell as many friends as possible!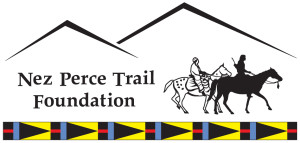 Or send your generous donation to:
The Nez Perce Trail Foundation  •  P.O. Box 5024  • Bend, Oregon 97708
Qe'ciye'w'yew  (Thank You!)
And A Special Thank You
to
Antonette Thomson 

•

  Keaau, Hawaii
Connie Delaney 

•

  Salmon, Idaho
Pat Ruckle

•

Boise, Idaho

Duane Heglie

•

El Dorado Hills, Ca.

 St. Mel's Parish

•

Fair Oaks, Ca.

for their generous contributions to the Nez Perce Trail Foundation
---
Welcome New Members
Shaz Ronstadt

•

Australia

Pat Ruckle

•

Boise, Idaho
---
<> 

<>

 

<>

Member of the Month

<>

 

<>

  <>

---
DID YOU KNOW  . . . ?    Hint:  

Click Here for this Month's Feature
---
Congratulations to the Nez Perce Trail Foundation's
DICK SEYMOUR
Vice President, NPTF
Dick Seymour, a 16-year resident of Wallowa, Oregon has been appointed by Governor John Kitzhaber to the Oregon Historic Trails Advisory Council. A former superintendent of electronics for Portland Public Schools and a current resident of Wallowa, Dick will become one of nine volunteers on the Council. Dick says his term will last from Dec. 1, 2014, until Nov. 30, 2018. Dick is also serving as Vice President of the Nez Perce Trail Foundation.
Sixteen is the magic number in this story because the Oregon Historic Trails Advisory Council formed 16 years ago in 1998; Dick has been a resident of Wallowa for 16 years; and there are a total of 16 trails in Oregon that have been designated as historic trails. One of the 16 historic trails in Oregon is the Nez Perce (Nee-Me-Poo) National Historic Trail (NPNHT) that begins in Wallowa County.
Always with a strong interest in horseback riding, Dick and his wife Sally first joined the non-profit Oregon Equestrian Trails organization in 1978, eight years after that entity was formed. The purpose of the group has always been to make certain horse travel routes and trails remain open to the public. Other historic trails in Oregon include the Lewis and Clark NHT, Oregon NHT, California (Applegate) NHT, Whitman Mission Route, Upper Columbia River Route, Meek Cutoff, Free Emigrant Road, Cutoff to the Barlow Road, Klamath Trail, Jedediah Smith Route, Benjamin Bonneville Route, Ewing Young Route, John Fremont Route, and Santiam Wagon Road.
The Nez Perce Trail Foundation is Proud of You.
See You on the Trails!
Source: Wallowa County Chieftain
---

VIEW THE NPTF WEBSITE ON YOUR MOBILE DEVICE
Our new web design is mobile friendly. Now you can access our site as you travel the trail.
As always, go to NezPerceTrail.net,  and we will be instantly formatted on your phone or mobile device.
---
Visit InstaGram  @NezPerceTrailFoundation

---
Nu'nim Himyu'uma ka Lawtiwa'ama
(Our relatives and Friends)
The Official Language Program of the Nee-Me-Poo
Click here to find out more about the language
"Landscape of History, The Nez Perce Story"
(Youtube Video of the Nez Perce► 19:59)
---
*** NPTF Business Plans ***
The NPTF is developing new business development plans for 2015
Would YOU like to be a part of preserving and experiencing history? YOU can make a difference.

The NPTF and TRAIL Preservation efforts are growing, and we need YOU.

Current Openings in
Merchandising / Marketing   •  Grant Development

•  Project Directors  for 2015 On-Site Trail Work  •

These are voluntary positions, some requiring accounting, inventory responsibilities, and/or travel.
*Also Consider serving on the Executive Committee or Board of Directors

as Term Positions become Available
Please inquire at: Khnezpercetrail@gmail.com
---
PLANS to UPDATE and REVISE the
COMPREHENSIVE PLAN for the NEZ PERCE (NEE-ME-POO)
NATIONAL HISTORIC TRAIL
NPNHT
 For more information, please see
Click on "Quick Links" in the right column
"COMPREHENSIVE MANAGEMENT PLAN REVISION"
The public is encouraged to view the video "A Landscape of History"
---
The National Park Service Turns 100
On August 25, 2016, the National Park Service will mark its Centennial celebration, and will kick off a second century of stewardship of America's National Parks.
For more information, please visit

___________________________________________
 Ask for FREE 2015 Updated Auto Tour Brochures
as a companion to the VIRTUAL TOUR

Available at the many official Nez Perce National Historic Trail Sites
(Click here to go to Virtual Tour)
(Click here to see feature as printed in Pathways Autumn 2012)
**** Visit our website with the use of your mobile device ****
Visit us on InstaGram  @NezPerceTrailFoundation
© 2015 NPTF • All rights reserved
Website posting & updating by the NPTF
---
Last updated: March 5, 2015 at 17:34 pm