Virtual Trail
Walk the trail from your computer
Home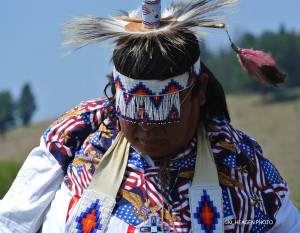 Nez Perce participant at the recent Big Hole Battle Memorial
NEZ PERCE TRAIL FOUNDATION
Official Partner of the NPNHT
The support of the Nez Perce National Historic Trail, designated by Congress on October 6, 1986, is a major activity of the Nez Perce Trail Foundation. The Trail route is 1,170 miles long, beginning at Wallowa Lake, Oregon, and ending at the Bear Paw Battleground in Montana. The Nez Perce Trail Foundation is dedicated to the preservation, protection, and commemoration of all aspects of the heritage of the Nez Perce War of 1877 and its aftermath. A significant Foundation goal is to have the Nez Perce route available to auto travel, hiking, and equestrian use for experiencing the history, recreational and ceremonial observances.
Follow us on FACEBOOK
Follow our journeys and photos on
InstaGram 

@NezPerceTrailFoundation
---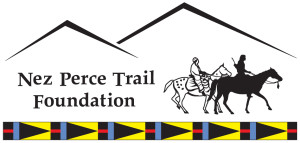 VIRTUAL PUBLIC MEETING to UPDATE and REVISE the
COMPREHENSIVE PLAN for the NEZ PERCE (NEE-ME-POO)
NATIONAL HISTORIC TRAIL
September 29, 2014
1 – 3:30 pm MDT
The public is encouraged to attend via Virtual Internet Broadcast. For more information, please see
Click on "Quick Links" in the right column
"COMPREHENSIVE MANAGEMENT PLAN REVISION"
The public is encouraged to view the video "A Landscape of History"  prior to the
virtual public meeting on Monday, September 29, 2014
The NPTF thanks you for your interest, ideas, input and participation!
---

VIEW THE NPTF WEBSITE ON YOUR MOBILE DEVICE
Our new web design is mobile friendly. Now you can access our site as you travel the trail.
As always, go to NezPerceTrail.net,  and we will be instantly formatted on your phone or mobile device.
---
NEW!
 InstaGram is here!  @NezPerceTrailFoundation

 ***************
NEW! "Member of the Month" Page
Just send us a short bio., photo, and why the Nez Perce Trail is important to you (from personal experience or interest.)
You may be selected to be featured on our new Member of the Month page!
Please submit to Khnezpercetrail@gmail.com
---
Nu'nim Himyu'uma ka Lawtiwa'ama
(Our relatives and Friends)
The Official Language Program of the Nee-Me-Poo
Click here to find out more about the language
---
DID YOU KNOW  . . . ?
Click Here for this Month's Feature
---
*** NPTF Business Plans ***
The NPTF is developing new business development plans for 2015
Would YOU like to be a part of preserving and experiencing history? YOU can make a difference.

The NPTF and TRAIL Preservation efforts are growing, and we need YOU!

Current Openings:
Merchandising / Marketing Director

Project Directors (volunteer on-site work & projects TBD)
Please inquire at: Khnezpercetrail@gmail.com
These are voluntary positions, requiring accounting, inventory responsibilities, and travel.
Also Consider serving on the Executive Committee or Board of Directors

as Term Positions become Available
---
The National Park Service Turns 100!
On August 25, 2016, the National Park Service will mark its Centennial celebration, and will kick off a second century of stewardship of America's National Parks.
For more information, please visit

___________________________________________
 Ask for FREE Auto Tour Brochures
as a companion to the VIRTUAL TOUR

Available at the many official Nez Perce National Historic Trail Sites
(Click here to go to Virtual Tour)
(Click here to see feature as printed in Pathways Autumn 2012)
**** Visit our website with the use of your mobile device ****
Visit us on InstaGram  @NezPerceTrailFoundation
---
Last updated: September 28, 2014 at 19:13 pm