Virtual Trail
Walk the trail from your computer
Home
NEZ PERCE TRAIL FOUNDATION
Official Partner of the NPNHT
The support of the Nez Perce National Historic Trail, designated by Congress on October 6, 1986, is a major activity of the Nez Perce Trail Foundation. The Trail route is 1,170 miles long, beginning at Wallowa Lake, Oregon, and ending at the Bear Paw Battleground in Montana. The Nez Perce Trail Foundation is dedicated to the preservation, protection, and commemoration of all aspects of the heritage of the Nez Perce War of 1877 and its aftermath. A significant Foundation goal is to have the Nez Perce route available to auto travel, hiking, and equestrian use for experiencing the history, recreational and ceremonial observances.
Follow us on FACEBOOK
Follow our journeys and photos on
InstaGram 

@NezPerceTrailFoundation
---
Thanks to

YOU

We reached our Goal!



Dear Members and Friends,
I cannot express enough gratitude to those who "dug deep" to help the
Nez Perce Trail Foundation reach it's fundraising goal to provide the
Memorial Tote Bags for the "Women Warriors of the Wallowa Band."
I have come to know more of you better by your generosity and your devotion
to our efforts and endeavors. Some of you gave a lot, some of you a little,
but the important thing is that you rose to the occasion when I needed you.
I offer you my sincerest appreciation and personal promise to continue
the "journey" of protecting, preserving, and commemorating the Nez Perce Trail.
A special Memorial Ceremony will be conducted on
Saturday morning, July 18, 2015 at Tamkaliks to honor the
"Women Warriors of the Wallowa Band."
Each descendant will be presented with a beautifully designed
red Tote Bag, filled with symbolic items and gifts.
Sincerely, Karen Heagen
Secretary, NPTF
I invite you to become a member so the NPTF can continue to be involved with worthwhile  projects like this.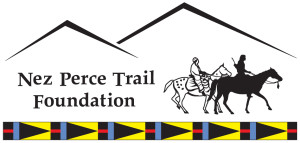 Send your Membership Dues or a donation to:
The Nez Perce Trail Foundation  •  P.O. Box 5024  • Bend, Oregon 97708
Qe'ciye'w'yew  (Thank You!)
---
FINAL DAYS!!

Reserve Your Spot Now!

NPTF Summer Educational Trail Tour
July 17 – 24, 2015
Guided by the
Nez Perce Trail Foundation's
Duane Heglie & Karen Heagen
New sites, new stories, new friends, new adventures on a

Journey of a Lifetime this July!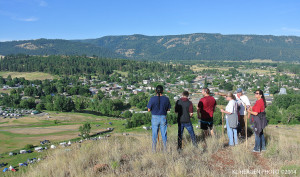 •  Wallowa Valley  •  Tamkaliks Celebration & Friendship Feast  •
•  Nez Perce Nat'l. Historic Park, Spalding  •  White Bird  •  Clearwater  •  Lolo Trail  •
•  "Fort Fizzle"  •  Bitterroot Valley  •  Big Hole Battlefield  •

•  Guest Speakers and Demonstrations  •

or visit the Summer NPTF Educational Trail Tour page on this website
*Optional MSUN Credit Available  •  Space is Limited, Register NOW!

---

Nez Perce Trail Foundation
Annual Scholarship
Applications are now being excepted for TWO $1,ooo Scholarships
generously funded by the Duane Heglie Family and Friends
Duane has been leading the NPTF Summer Tour Trips for the last 13 years,
and is also very involved with the education and future of the Nez Perce youth.
For more information and details, please contact Duane Heglie at:
1115 Arbor Place, El Dorado Hills, California 95762   •   916-933-1368
or email: heglie@comcast.net
---
2015 NPTF Executive Committee
and Board of Directors Meetings
will be held in Wallowa, Oregon in conjunction with the
Tamkaliks Celebration and Friendship Feast
July 17-19, 2015



  •  Executive Committee Meeting
•
Friday, July 17  • (Executive Committee Members Only)

•  Board of Directors Meeting

 

•

 
Saturday, July 18  •  10:30 am – 1 pm  •  Wallowa Band  Interpretive Center  •  Limited Seating

---
The Nez Perce National Historic Park, Spalding, Idaho



Celebrates 50 Years!
Photo courtesy of NPNHP
Call 208-843-7020 or visit the website at:  www.nps.gov/nepe
---
The National Park Service Turns 100
On August 25, 2016, the National Park Service will mark its Centennial celebration, and will kick off a second century of stewardship of America's National Parks.
For more information, please visit

---
<> 

<>

 

<>

Member of the Month

<>

 

<>

  <>

---
DID YOU KNOW  . . . ?    Hint:  


Click Here for this Month's Feature
---

VIEW THE NPTF WEBSITE ON YOUR MOBILE DEVICE
Our new web design is mobile friendly. Now you can access our site as you travel the trail.
As always, go to NezPerceTrail.net,  and we will be instantly formatted on your phone or mobile device.
---
Visit InstaGram  @NezPerceTrailFoundation

---
Nu'nim Himyu'uma ka Lawtiwa'ama
(Our relatives and Friends)
The Official Language Program of the Nee-Me-Poo
Click here to find out more about the language
"Landscape of History, The Nez Perce Story"
(Youtube Video of the Nez Perce► 19:59)
---
*** NPTF Business Plan ***
The NPTF has developed business development plans for 2015
Would YOU like to be a part of preserving and experiencing history? YOU can make a difference.

The NPTF and TRAIL Preservation efforts are growing, and we need YOU.

Current Openings in
Marketing and Grants

This is a voluntary position, requiring accounting skills.
*Also Consider serving on the Executive Committee or Board of Directors

as Term Positions become Available
Please inquire at: Khnezpercetrail@gmail.com
---
ONGOING PLANS to UPDATE and REVISE the
COMPREHENSIVE PLAN for the NEZ PERCE (NEE-ME-POO)
NATIONAL HISTORIC TRAIL
NPNHT
 For more information, please see
Click on "Quick Links" in the right column
"COMPREHENSIVE MANAGEMENT PLAN REVISION"
The public is encouraged to view the video "A Landscape of History"
---
 Ask for FREE 2015 Updated Auto Tour Brochures
as a companion to the VIRTUAL TOUR

Available at the many official Nez Perce National Historic Trail Sites
(Click here to go to Virtual Tour)
(Click here to see feature as printed in Pathways Autumn 2012)
**** Visit our website with the use of your mobile device ****
Visit us on InstaGram  @NezPerceTrailFoundation
© 2015 NPTF • All rights reserved
Website posting & updating by the NPTF
---
2015 NPNHT Desk Planners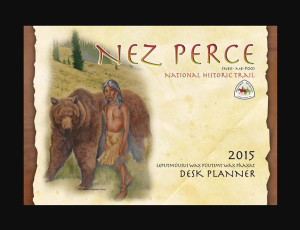 These beautiful calendars are still available to all NPTF Members
If you haven't received yours, please contact Roger Peterson-NFS for your copy today.
Last updated: July 11, 2015 at 16:50 pm