Virtual Trail
Walk the trail from your computer
Home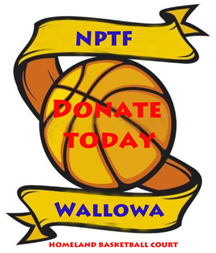 Wallowa Homelands Basketball Court Fundraiser
Make the Dream Come True in 2018!
DONATE TODAY for your 2018 Tax Deduction
Who We Are . . .

NEZ PERCE TRAIL FOUNDATION
Official Partner of the NPNHT
The support of the Nez Perce National Historic Trail, designated by Congress on October 6, 1986, is a major activity of the Nez Perce Trail Foundation. The Trail route is 1,170 miles long, beginning at Wallowa Lake, Oregon, and ending at the Bear Paw Battleground in Montana. The Nez Perce Trail Foundation is dedicated to the preservation, protection, and commemoration of all aspects of the heritage of the Nez Perce War of 1877 and its aftermath. A significant Foundation goal is to have the Nez Perce route available to auto travel, hiking, cycling, and equestrian use for experiencing the history, recreational and ceremonial observances.
Follow us on FACEBOOK
Follow our journeys and photos on
InstaGram 

@NezPerceTrailFoundation
LinkedIn
Karen (KL) Heagen, NPTF
---
 

Bring It Home!! Donate today!!
Click on the image below for details
Print out this flyer and TELL YOUR FRIENDS!!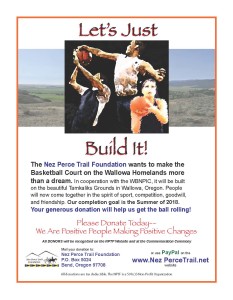 Make your tax free donation today!
Let's Just Build It!!
---
2018 NPTF
Summer

Educational Trail Tour
Guided by the Nez Perce Trail Foundation
It is the Journey of a Lifetime for many!
We hope to share the Trail with you in 2018.
July 20 – July 29, 2018
*Let us know which segment you would like to travel

Tour information and forms will be available soon
---
The

NEW

NPTF BROCHURE
is

hot

off the press!
Feel free to download and print
Pass it on to all of your friends and colleagues!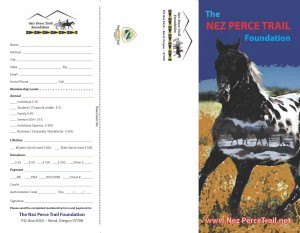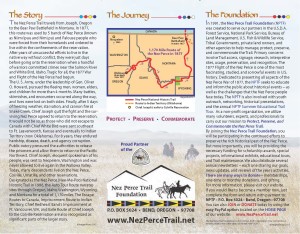 Many thanks to Abracadabra Printing, Bend, Oregon
---
Become a Member or DONATE today so the NPTF can continue
to be involved with our worthwhile  projects!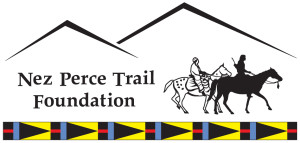 Send your Membership Dues or a DONATION to:
The Nez Perce Trail Foundation  •  P.O. Box 5024  • Bend, Oregon 97708
Qe'ciye'w'yew  (Thank You!)
What are we doing with your dues and donations?
Let us count the ways!
Nez Perce Scholarship Funds
Special Projects, Trail Preservation, Marketing & Educational Efforts 
The Annual NPTF Summer Educational Trail Tour
Bi-Annual Newsletters
Brochures & Collateral
Administration Costs
Postage, Travel, Correspondence and Printing
"We Serve to Tell the Story!"
PLEASE MAKE YOUR TAX-FREE DONATION TODAY
---
 The NPTF is taking applications for a qualified

GRANT WRITER
to work with our Development Director.
Please send your resume, fees, and experience info. to:
Khnezpercetrail@gmail.com
---
All NPTF Memberships Begin or Renew
at the beginning of each Calendar Year
January 1st 
Use the "Donate" button above

If you have any questions, please contact:
Matt Nowak, NPTF Membership Chairman
Matthewhelen@aol.com

or
Tricia Taylor, Secretary / Treasurer
zimmete@aol.com
---
NPTF Adopted Revision of ByLaws
Click here to go directly to the ByLaws page
Qe'ciye'w'yew (Thank You!)
---
2018 NPNHT Desk Planners

These beautiful calendars are available to all NPTF Members
---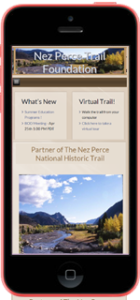 VIEW THE NPTF WEBSITE ON YOUR MOBILE DEVICE
Our new web design is mobile friendly. Now you can access our site as you travel the trail.
As always, go to NezPerceTrail.net,  and we will be instantly formatted on your phone or mobile device.
---
Visit InstaGram  @NezPerceTrailFoundation

---
Nu'nim Himyu'uma ka Lawtiwa'ama
(Our relatives and Friends)
The Official Language Program of the Nee-Me-Poo
Click here to find out more about the language
"Landscape of History, The Nez Perce Story"
(Youtube Video of the Nez Perce► 19:59)
---
ONGOING PLANS to UPDATE and REVISE the
COMPREHENSIVE PLAN for the NEZ PERCE (NEE-ME-POO)
NATIONAL HISTORIC TRAIL
NPNHT
 For more information, please see
Click on "Quick Links" in the right column
"COMPREHENSIVE MANAGEMENT PLAN REVISION"
The public is encouraged to view the video "A Landscape of History"
---
 Ask for FREE 2018 Updated Auto Tour Brochures
as a companion to the VIRTUAL TOUR

Available at the many official Nez Perce National Historic Trail Sites
(Click here to go to Virtual Tour)
(Click here to see feature as printed in Pathways Autumn 2012)
**** Visit our website with the use of your mobile device ****
Visit us on InstaGram  @NezPerceTrailFoundation
© 2016 NPTF • All rights reserved
Website posting & updating by the NPTF
---
2017 NPTF
Board of Directors Meeting Minutes
Wallowa, Oregon
Last updated: January 13, 2018 at 20:47 pm