Virtual Trail
Walk the trail from your computer
Home
NEZ PERCE TRAIL FOUNDATION
Official Partner of the NPNHT
The support of the Nez Perce National Historic Trail, designated by Congress on October 6, 1986, is a major activity of the Nez Perce Trail Foundation. The Trail route is 1,170 miles long, beginning at Wallowa Lake, Oregon, and ending at the Bear Paw Battleground in Montana. The Nez Perce Trail Foundation is dedicated to the preservation, protection, and commemoration of all aspects of the heritage of the Nez Perce War of 1877 and its aftermath. A significant Foundation goal is to have the Nez Perce route available to auto travel, hiking, and equestrian use for experiencing the history, recreational and ceremonial observances.
Follow us on FACEBOOK
Follow our journeys and photos on
InstaGram 

@NezPerceTrailFoundation
---
The Nez Perce Trail Foundation
sadly announces the passing of
October 15, 1934 – October 14, 2014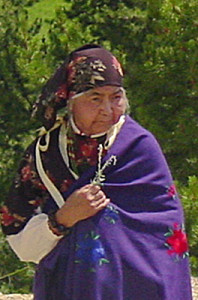 "There were many nameless women of all ages who lost their lives. In our hearts we will remember these brave women whose lives were cut short by the Nez Perce War of 1877."  Ruth Wapato
Ruth Wapato was a Chief Joseph band descendant and Board Member of the Nez Perce Trail Foundation. Along with other Nez Perce women, she always made a presentation at our Annual Meeting. She lived in Spokane, Washington with her husband, Paul, also a Board Member of the NPTF. Her quiet enthusiasm and devotion to the Trail and to the Foundation was unequaled. It is our pledge to carry on the education, wisdom, and spirit that she shared with so many of us.
"Ruth and Paul have been the greatest supporters of the Nez Perce National Historic Trail. She was such a special lady and the perfect spokesperson for the NPTF. All the years she dedicated to commemorating the trail will never be matched. She never received a dime for the time and effort she put into promoting the NPTF. Her love for her people and ancestors who tragically created the Nez Perce War Trail will never be forgotten. I'm one of those that only got to know her a couple of years ago, but I can honestly say that she made a great impact on me. I'm sure glad and blessed that I got to meet her. She will be missed dearly."
Jim Zimmerman, President NPTF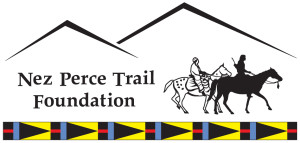 ---
PLANS to UPDATE and REVISE the
COMPREHENSIVE PLAN for the NEZ PERCE (NEE-ME-POO)
NATIONAL HISTORIC TRAIL
For more information, please see
Click on "Quick Links" in the right column
"COMPREHENSIVE MANAGEMENT PLAN REVISION"
The public is encouraged to view the video "A Landscape of History"
The NPTF thanks you for your interest, ideas, input and participation!
---

VIEW THE NPTF WEBSITE ON YOUR MOBILE DEVICE
Our new web design is mobile friendly. Now you can access our site as you travel the trail.
As always, go to NezPerceTrail.net,  and we will be instantly formatted on your phone or mobile device.
---
Visit InstaGram  @NezPerceTrailFoundation

---
 Member of the Month

Carson Heagen
Carson joined the Nez Perce Trail Foundation in early 2014. He is 24 years old and is a student at Boise State University, majoring in Business. While not studying, Carson is off to the wilderness to explore historical sites and trails.
Carson enjoys hiking, fishing, traveling, biking, meeting people, and studying cultures. He has traveled a great portion of the Nez Perce Trail through Idaho, Wyoming, and Montana. He also enjoys attending the annual Tamkaliks Pow Wow and Friendship Feast in Wallowa, Oregon, and then participating in the NPTF Summer Exploration Trip lead by Duane Heglie.
Welcome Carson, and qe'ciye'w'yew (Thank you)!
 If you would like to be our Member of the Month, please submit your name, photo, short bio., and why the Nez Perce Trail is of interest to you. Send to Khnezpercetrail@gmail.com

---
Nu'nim Himyu'uma ka Lawtiwa'ama
(Our relatives and Friends)
The Official Language Program of the Nee-Me-Poo
Click here to find out more about the language
"Landscape of History, The Nez Perce Story"
(Youtube Video of the Nez Perce► 19:59)
---
DID YOU KNOW  . . . ?
Click Here for this Month's Feature
---
*** NPTF Business Plans ***
The NPTF is developing new business development plans for 2015
Would YOU like to be a part of preserving and experiencing history? YOU can make a difference.

The NPTF and TRAIL Preservation efforts are growing, and we need YOU!

Current Openings:
Merchandising / Marketing Director

Project Directors (volunteer on-site work & projects TBD)
Please inquire at: Khnezpercetrail@gmail.com
These are voluntary positions, requiring accounting, inventory responsibilities, and travel.
Also Consider serving on the Executive Committee or Board of Directors

as Term Positions become Available
---
The National Park Service Turns 100
On August 25, 2016, the National Park Service will mark its Centennial celebration, and will kick off a second century of stewardship of America's National Parks.
For more information, please visit

___________________________________________
 Ask for FREE Auto Tour Brochures
as a companion to the VIRTUAL TOUR

Available at the many official Nez Perce National Historic Trail Sites
(Click here to go to Virtual Tour)
(Click here to see feature as printed in Pathways Autumn 2012)
**** Visit our website with the use of your mobile device ****
Visit us on InstaGram  @NezPerceTrailFoundation
---
Last updated: October 21, 2014 at 18:54 pm