Virtual Trail
Walk the trail from your computer
Home
NEZ PERCE TRAIL FOUNDATION
Official Partner of the NPNHT
The support of the Nez Perce National Historic Trail, designated by Congress on October 6, 1986, is a major activity of the Nez Perce Trail Foundation. The Trail route is 1,170 miles long, beginning at Wallowa Lake, Oregon, and ending at the Bear Paw Battleground in Montana. The Nez Perce Trail Foundation is dedicated to the preservation, protection, and commemoration of all aspects of the heritage of the Nez Perce War of 1877 and its aftermath. A significant Foundation goal is to have the Nez Perce route available to auto travel, hiking, and equestrian use for experiencing the history, recreational and ceremonial observances.
Follow us on FACEBOOK
Follow our journeys and photos on
InstaGram 

@NezPerceTrailFoundation
LinkedIn
Karen (KL) Heagen, NPTF
---
Become a member so the NPTF can continue to be involved with our worthwhile  projects!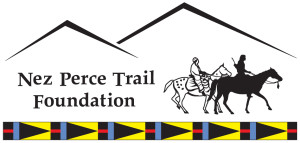 Send your Membership Dues or a donation to:
The Nez Perce Trail Foundation  •  P.O. Box 5024  • Bend, Oregon 97708
Qe'ciye'w'yew  (Thank You!)
---
All NPTF Memberships Begin or Renew
at the beginning of each Calendar Year
January 1st 

•  Use the "Donate" button

If you have any questions, please contact:
Jim Zimmerman, NPTF Membership
jzcobra@aol.com

---
2016 NPNHT Desk Planners

These beautiful calendars are available to all NPTF Members!
If you would like to receive one, please contact Roger Peterson, NPNHT-FS,
for your copy.
rmpeterson@fs.fed.us
---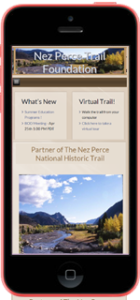 VIEW THE NPTF WEBSITE ON YOUR MOBILE DEVICE
Our new web design is mobile friendly. Now you can access our site as you travel the trail.
As always, go to NezPerceTrail.net,  and we will be instantly formatted on your phone or mobile device.
---
Visit InstaGram  @NezPerceTrailFoundation

---
Nu'nim Himyu'uma ka Lawtiwa'ama
(Our relatives and Friends)
The Official Language Program of the Nee-Me-Poo
Click here to find out more about the language
"Landscape of History, The Nez Perce Story"
(Youtube Video of the Nez Perce► 19:59)
---
ONGOING PLANS to UPDATE and REVISE the
COMPREHENSIVE PLAN for the NEZ PERCE (NEE-ME-POO)
NATIONAL HISTORIC TRAIL
NPNHT
 For more information, please see
Click on "Quick Links" in the right column
"COMPREHENSIVE MANAGEMENT PLAN REVISION"
The public is encouraged to view the video "A Landscape of History"
---
 Ask for FREE 2016 Updated Auto Tour Brochures
as a companion to the VIRTUAL TOUR

Available at the many official Nez Perce National Historic Trail Sites
(Click here to go to Virtual Tour)
(Click here to see feature as printed in Pathways Autumn 2012)
**** Visit our website with the use of your mobile device ****
Visit us on InstaGram  @NezPerceTrailFoundation
© 2016 NPTF • All rights reserved
Website posting & updating by the NPTF
---
The National Park Service Turns 100
On August 25, 2016, the National Park Service will mark its Centennial celebration, and will kick off a second century of stewardship of America's National Parks!
For more information, please visit

Last updated: August 25, 2016 at 15:24 pm